Cisa Group will be in Dubai as a partner of the Cisa Group sarà a Dubai come partner of the Intelligent Health Association (IHA) to present the Medical Waste Treatment 4.0 project at Arab Health 2023.
The Italian company, one of the world's leading manufacturers of washing and disinfection systems and sterilisation technologies, is starting off this new year by taking part in one of the most important events for the healthcare industry with a science speech on the circularity of medical waste.
Arab Health is the trade fair that brings together all the main players involved in making medical care a more sustainable activity, with a positive impact on the environment. The Dubai event is one of the most important international showcases for the healthcare industry, highlighting innovative solutions that will disrupt existing models and revolutionise healthcare for future generations. Cisa Group will take part in the conference at the Intelligent Health Pavilion, Pad 7 presenting the il progetto Cisa Research project Medical Waste Treatment 4.0, the evolution of the system from an end-of-waste perspective: an innovation that ennobles and enhances the medical waste sterilisation process by reducing waste and promoting recycling and reuse. An innovative approach for a more sustainable healthcare system, and the ideal application for the green hospitals of the not too distant future!
Save the date!
Day January 31st 2023 | Time 2:30 PM Dubai Time (11:30 AM Italian Time) | Location IHP Pavillon H7 World trade center Dubai
More info about The Intelligent Health(TM) Pavilion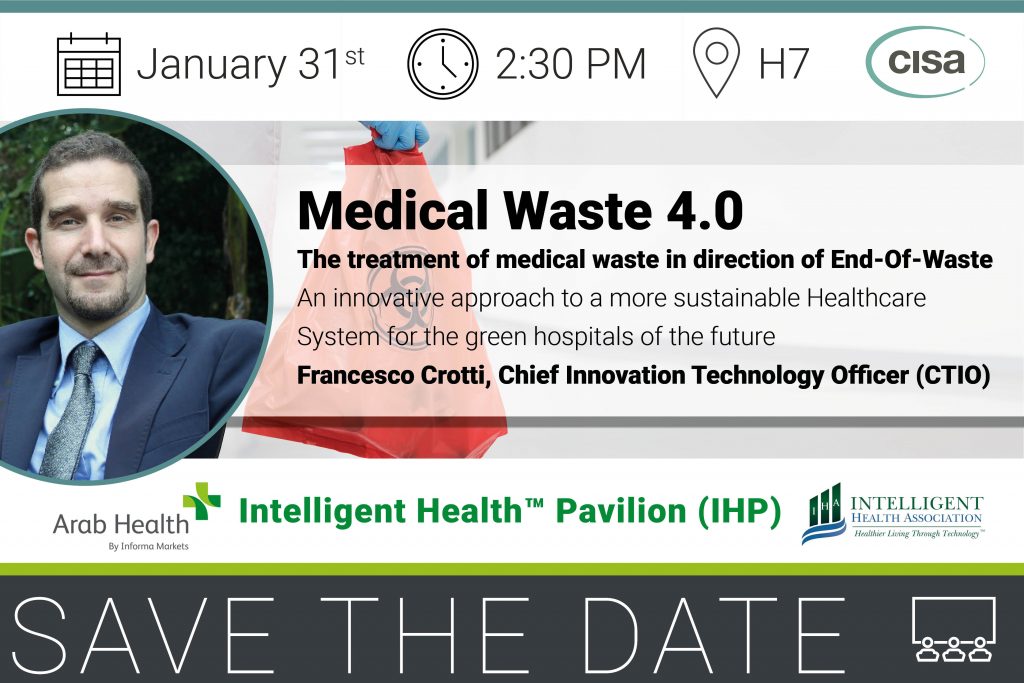 Cisa Waste
Cisa Production Srl is been mindful of the planet's problems and sensitive to sustainability issues related to the environment, consumption, and the safeguard of persons. The Cisa Group's Waste technology for the treatment of hospital waste confirms this.
Research
Medical Waste Treating 4.0 is R&D project aimed at the creation of an innovative automated system for the treatment and ennobling of medical waste in an End-of-Waste perspective.
READ MORE
L'articolo CISA GROUP AT ARAB HEALTH 2023 proviene da Cisa Group.